Dr. Speaks – Denver Orthodontist
Our resident orthodontic expert, Dr. Clif Speaks, is passionate about designing custom smiles for every patient who sits in our chairs. If orthodontics is an art, Dr. Speaks is a master artist with a knack for perfecting grins. A true jack-of-all-trades, our doctor delivers flawless results with years of schooling and extensive training under his belt. With experience as a general dentist and intimate knowledge of oral surgery and hospital-based orthodontics, he truly is the best person to guide you along the path to a better smile. Dr. Speaks has never met a stranger, and always takes the time to get to know his patients and their needs. From an early age, he was influenced by his grandfather, the town's physican and pharmacist. It was the recognition of the community for his grandfather's good works and services that motivated Dr. Speaks to pursue his dream of helping others. Also, Dr. Speaks is among the few select orthodontists who are Board-Certified by the American Board of Orthodontics. To spot him around the office, just look for the person wearing the awesome Vans!
Background & Education
Dr. Speaks originally from South Carolina, where he attended college at The Citadel, the well-known historic military college in Charleston, South Carolina. While attending The Citadel, Dr. Speaks was a four-year letterman and captain of the NCAA Division 1 soccer team. He was also a member of the Summerall Guard, a highly-skilled rifle drill team that has represented the school in presidential inaugurations and major events throughout the countries history. Dr. Speaks graduated Cum Laude with a Bachelor's Degree in Biology.
While attending The Medical University of South Carolina, in Charleston, South Carolina, Dr. Speaks developed a passion for the specialty of orthodontics. However, he continued to pursue all aspects of dentistry due to his passions in science and the arts. Dr. Speaks received the American Association of Oral and Maxillofacial Surgeons – Dental Student Award for outstanding undergraduate oral and maxillofacial surgery achievements.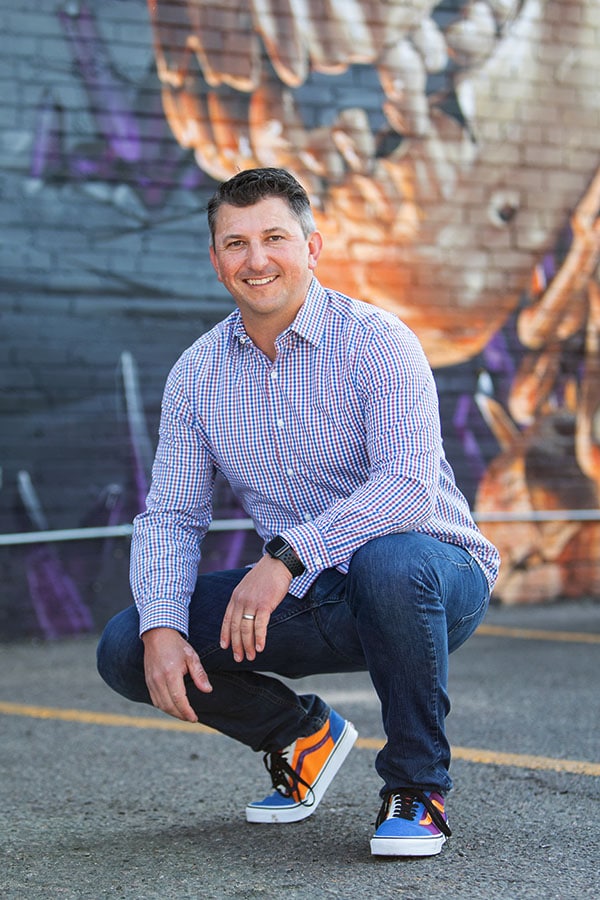 After his graduation from MUSC, Dr. Speaks continued his dental education attending the General Practice Residency at the VA hospital in Portland, Oregon. Here he served our nation's bravest men and women. The VA gave Dr. Speaks the opportunity to integrate his skills as a dentist in a multi-faceted approach to meet the needs of a population of people with a wide array of medical and dental needs.
With the completion of his residency in Oregon, Dr. Speaks relocated to Denver, Colorado, his wife Ginger's hometown. Dr. Speaks and Ginger fell in love with The Highlands neighborhood of Denver. They knew immediately that this is where they wanted to live and raise their family. Dr. Speaks practiced general dentistry in Colorado for two years while still maintaining a passion for the pursuit of a career in orthodontics.
In 2008, Dr. Speaks and his wife moved to New York City, where he began his orthodontic training at Montefiore Medical Center/ Albert Einstein College of Medicine in the Bronx, New York. The culturally diverse population of the Bronx and New York City provided an ideal environment for him to refine his skills and treat a highly underserved population. In 2011, Dr. Speaks received his certificate in Orthodontics and Dento-Facial Orthopedics after three years of specialty training.
Board Certification
Few patients would choose an unlicensed orthodontist, but many are unaware of the importance of board certification. This is an extra step that goes beyond the basic education and competency requirements of the state's licensing board. Orthodontists begin as dentists, but go on to seek a graduate study course approved by the American Dental Association to become specialists in orthodontics. Once the course is completed, the orthodontist can seek both licensing and certification from the American Board of Orthodontics. This is a voluntary step, but it helps the dental care provider prove their dedication to offering the very best care. Dr. Speaks is one of the few orthodontists in the Denver area that holds this type of certification.
A certified orthodontist can provide numerous benefits to their patients. The expert must undergo rigorous testing procedures to achieve Board Certification by the American Board of Orthodontics. Dr. Speaks passed a long written examination to prove his understanding of orthodontic concepts and an understanding of orthodontic literature. He also had to present his own case reports of patients that he personally treated, showcasing his ability to provide top-notch care and a functional aesthetic final result. Oral examinations and interviews were also completed. The Board Certification process is a long and arduous process and Dr. Speaks completed this process with flying colors.
Orthodontists can not practice without a license. However, they don't have to seek certification from the ABO unless they choose to become Board Certified. Only a fraction of dentists achieve the honor of being a Diplomate of the American Board of Orthodontics. Dr. Speaks sought out this level of certification so that he could provide the highest level of care to his patients.
The ABO has been setting high standards for dental care since its establishment in 1929. Over its long history, the ABO has helped millions of patients connect with the most experienced and well-trained orthodontists.